Colorado's Arkansas River has peaked – Beginner rafting trips are available
The Arkansas River is the most popular whitewater rafting river in Colorado and its central location, stunning scenery, and abundant whitewater have attracted thrill-seekers from all over the world for more than 40 years.
A record snowpack in Colorado this past winter, which culminated in mid-May, has resulted in historic flows on the Arkansas River this spring and summer – creating a whitewater utopia most river rats only dream about.
The Arkansas River likely peaked on June 18, 2015 at 4,050 cubic feet per second (cfs) in the Numbers, 4,939 cfs in Browns Canyon and 6,066 cfs in the Royal Gorge. These flows have turned small riffles into four-foot wave-trains, closed many advanced sections, and disrupted operations up and down the river corridor. As the floodwaters recede, expect to find epic whitewater rafting conditions on Colorado's Arkansas River all summer. Here are a few tips on how to navigate these historic waters whether you are a first-time rafter or a seasoned river runner.
20% off full rafting trips
Call 800-723-8987 or book online.
20% off full days
Raft now through Labor Day (excludes Saturdays)
Promo code: RaftColorado
Offer expires July 1, 2015
1. Go with a professional river outfitter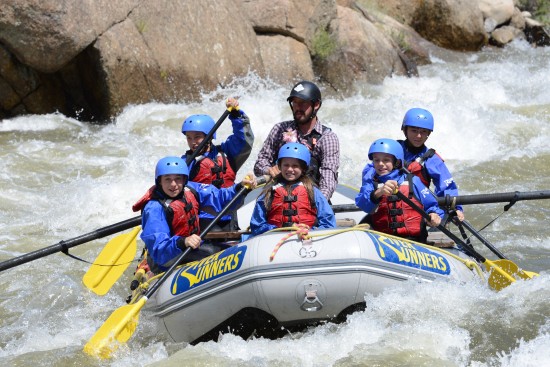 This seems like obvious advice to some, but is worth mentioning as tubing, SUP boarding and kayaking continue to grow in popularity. While there are many expert private river runners out there, the vast majority will want to hire a professional river outfitter to facilitate their whitewater experience. Raft guides are on the river everyday and know how to avoid hazards. Plus rafting companies have the latest equipment to help keep you safe.
2. Choose the best rafting trip for your group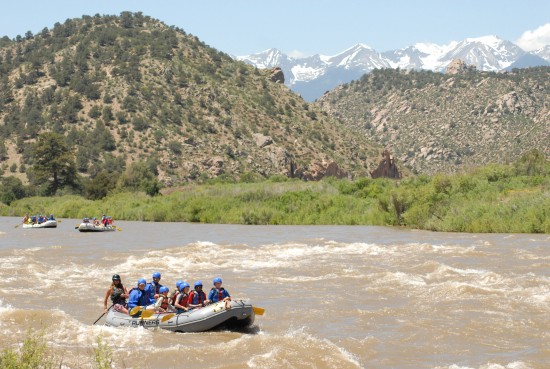 Recommended minimum age: 6 years old
Flows are high and thrill-seekers are salivating, but there are still plenty of beginner options for those looking for a milder whitewater experience. The Family Float (class II), Salida Town Run (class II-III), Bighorn Sheep Canyon (class III) and Browns Canyon (class III-IV) are all great beginner whitewater rafting trips in Colorado.
The Royal Gorge and the Numbers are closed to rafting due to the high water, but Parkdale (class IV) and the Narrows (class IV) offer world-class whitewater at high flows.
3. Dress appropriately
PFD and helmet included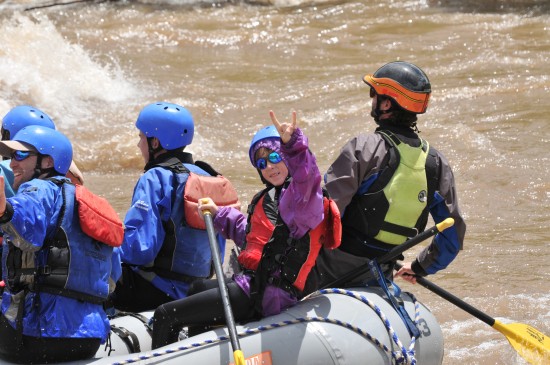 The air temperatures are warming up, but the water in the river is still cold. You should plan to wear quick-dry clothing like fleece, poly-pro and boards shorts, plus secure footwear like strapped sandals or an old pair of tennis shoes. Wetsuits, neoprene booties, and splash jackets are available to rent. Cotton, flip-flops and Crocs are not appropriate. Sunglasses, sunscreen, and personal drinking water are also recommended.
4. Book in advance and save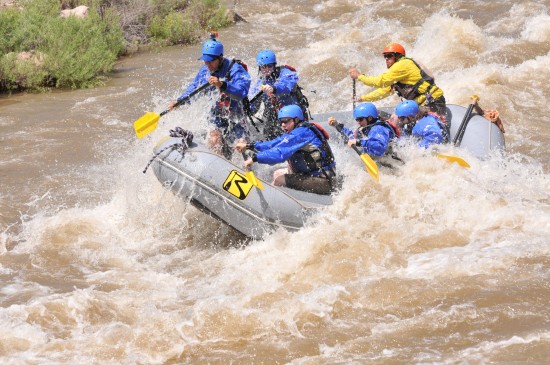 Book a full day whitewater rafting trip with River Runners by July 1, 2015 and save 20% (excludes Saturdays). Book online with promo code RaftColorado.
River Runners – The Whitewater Professionals
River Runners offers guided whitewater rafting trips from two locations on the Arkansas River. Raft beginner, intermediate and advanced whitewater on half-day, full-day and overnight adventures. Call 800-723-8987 or book online.
20% off full days
Raft now through Labor Day (excludes Saturdays)
Promo code: RaftColorado
Offer expires July 1, 2015