Visit Buena Vista, Colorado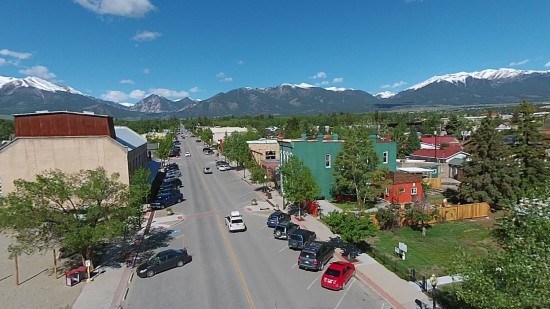 The ultimate summer vacation day in Colorado
There are so many things to do on your Colorado vacation it can be hard to fit it all in. We don't have all the answers, but we've planned a day for you in Buena Vista, Colorado that's sure to deliver high fives all around. So here is the first in a series of Colorado vacation ideas that are sure to make you look and feel like a boss.
1. Breakfast at the Evergreen Café
Start your day right with the best breakfast in Chaffee County. Choose from all the go-to favorites like bacon and eggs, omelets, Eggs Benedict and more. Get only the best ingredients including all-natural breads, local seasonal organic produce, hormone and antibiotic-free meats, locally roasted organic coffee, and lots of vegetarian options. You can't go wrong with anything on the menu. Don't just take our word for it. Check out their great reviews on TripAdvisor and Yelp.
www.evergreencafebv.com | 719-395-8984
2. Raft Brown's Canyon National Monument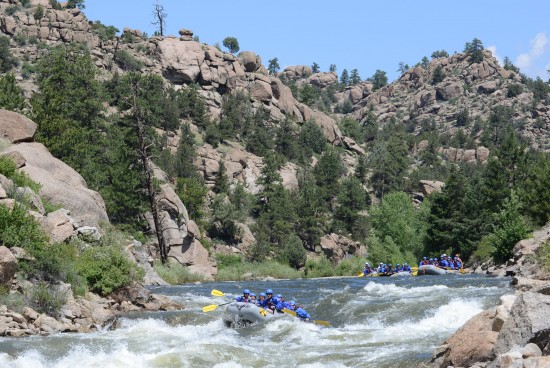 Whitewater rafting on the Arkansas River
Challenge class III rapids on the Arkansas River through Brown's Canyon National Monument. This popular trip is exciting enough to keep it fun for the seasoned river runner, but mild enough for first-time rafters. Experience legendary rapids like Pinball, Zoom Flume, and Staircase. River Runners at Browns Canyon is located at the put-in for this rafting trip.
BOOK

www.whitewater.net | 800-723-8987
3. Lunch at the Brown's Canyon Riverside Grill
After working up an appetite rafting, its time to enjoy a freshly prepared lunch at the Brown's Canyon Riverside Grill. Whether you order the delicious fish tacos, carne asada burrito, capris salad, or in-house smoked pulled pork sandwich, you are sure to find something you'll love. Enjoy a local Eddyline craft beer, or the famous Margarita & River Rummer, while you reflect back on the day's adventure. All while watching rafters and paddlers float by on the Arkansas River.
www.whitewater.net/riverside-grill/ | 800-723-8987
4. Soak at Mount Princeton Hot Springs
Creekside pools, multiple swimming pools, spa center
After a riverside lunch it's off to the Mount Princeton Hot Springs – just 10 minutes up the road. Once you arrive it won't take long to realize you're in for a relaxing afternoon. Enjoy the soaking pool, exercise pool, and the natural hot springs in Chalk Creek. The family-friendly upper pools include a 400-foot water slide and a lazy river that will entertain kids and "big kids" all day. Take it to the next level with a massage at the Mount Princeton Spa.
www.mtprinceton.com | 719-395-2447
5. Dinner at the Eddyline Restaurant and Brewery
After a fun-filled day it's time to head over to the Eddyline Restaurant @ South Main for some local cuisine at the Eddyline Restaurant and Brewery. Enjoy a large menu of wood-fired burgers, pastas, and pizzas complemented with a fine selection of craft beers and house-made sodas served up with some friendly mountain hospitality. Afterword walk around the South Main neighborhood to check out the local shops and trails.
www.eddylinerestaurant.com | 719-966-6000
6. Stay at the Surf Chateau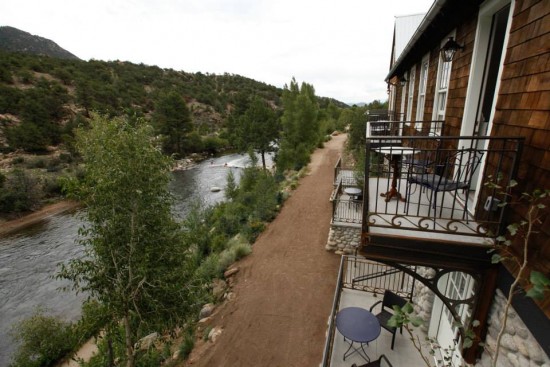 Riverside lodging in Buena Vista
Surf Chateau overlooks a whitewater play park on the Arkansas River in the South Main neighborhood of Buena Vista, Colorado. A stay here is far from ordinary. The architecture has a mid-19th century vibe with canopy beds, claw-foot tubs, vaulted ceilings, and balconies overlooking the river park and surrounding mountains. A literal playground for outdoor recreation surrounds you with hiking, mountain biking, off-roading, climbing, rafting, kayaking, stand up paddle boarding, horseback riding, zip lining, and you get the idea…
www.surfchateau.com | 719-966-7048